Want to build your own hobby business? Join WAR PAINT, a Referral Painting Network.  Become a Referral Painter for White Metal Games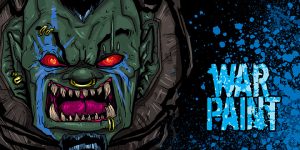 ,
White Metal Games has been in business for many years, and like all growing business, we have many expenses which influence our pricing structure, such as overhead, website domain fees, banking fees, and all of the other expenses associated with running a business.
What that means is sometimes despite our best efforts, aggressive discounts, and lowest levels of pricing, clients still sometimes find our work a bit too expensive for them.
But newer Painting Services, those hungry for work, seeking to expand their portfolios and offering competitive rates on their painting service, would be well served by taking advantage of our network and potentially serving clients that have passed on our services, allowing them to begin to build a client portfolio by riding our coattails. In the end the client has another outlet for painting and YOU get to grow your business.
That's where you come in . . . .
What it means to be a referred painter?
Referred Painters are painting services, like yours, that are having trouble reaching their client base. In the age of Facebook business profiles, there is more competition than ever before and getting noticed is harder than it used to be. Where do you start and how do you stand out?
We help you cut through that by referring potential clients to you that have passed on our service. Essentially we pass you a LEAD. We put you in touch with the client by giving you their name, email address, etc. You then quote the project as you would any other client and HOPEFULLY this translates into a commission.
What it costs to be a referred painter?
If a client we referred to you accepts your estimate for services, we take a 25% Finders Fee based on the estimate for services. For example if you quote the client $500, we would take $125. Payment should be made within 1 week of final payment from the client.
Delay will see you removed from this pilot program.
But how will you know if I get the job?
Essentially this is a good faith program, where we count on you to be honest with us. This is a pilot program, and we may refine or make changes to it in about 6 months.
We will follow up with you individually and if we monitor your website and Facebook pages, online portfolios, etc, and see a clear indication that you are painting a project referred by us and payment has not been made, you will be removed from the program.
That means no more referrals from us.
How Many Referred Painters do you have?
At the moment we are looking for two painting services. We feel that allowing more than that would lower the value of what we are offering. In addition we need to be able to vouch for these services.
If this program is successful, we reserve the right to add more services.
How Many Referrals will I see in a month?
That varies, but on a typical month we quote about 12-15 projects and about 6-8 of those will translate into jobs. That means that as many as half of our potential clients could be referred your way!
Which type of service is a good candidate for this program?
In a nutshell, you should be a good painter with great customer service skills, an online portfolio of your work, and eagerness. In addition, your rates must be highly competitive and lower than our rates.
Ideally your work should represent a wide scope of miniature painting, such as board games, RPG figures, wargaming, and the like. Our referral painters will be better served by not limiting their work dossiers to one type of model, such as just wargaming figures, or just board game figures, etc.
You can be a single painter or a team of painters; you can have a website or just an Facebook Business page. But the bottom line is you must be reliable, courteous, and professional. After all, if we refer a client to you and you anger the client, we may NEVER hear from them again, or worse . . .
Will the Clients know to expect me to reach out to them?
Yes. If a client rejects our initial estimate, we will include a 'referral option' and ask them if they would like us to refer them to another service of note that prices lower than we do.
Not all client will be receptive to this, however, we will do our best to hype your services.
Will I be competing against the other referral painters?
Yes. In most cases we want to give our clients more options, not less. So we'll send the referral out to all the referral painters at the same time.
Do I have to be a US based painting service to qualify?
Not necessarily, but it helps. Due to international tariffs and high shipping fees for overseas packages, we would prefer it if you were a US based service, BUT for the right painter/service we certainly will make an exception if it fits with this program.
Does this mean I am part of your staff?
No. This means we have found your service to be noteworthy and worth endorsement. You have our vote of confidence, but you are not officially a part of our staff, just a part of our outreach program. You might think of yourself as an 'associate' of ours.
That being said, during peak periods we may call upon you to help us 'catch up' by tackling small commissions that we outsource to your service, generally at a 65/35 split favoring the painter.
What if I later decide I don't want to be a part of this?
Just let us know. There's no contract or non-compete clause, so if you want to strike out on your own, congrats! We hope that we've helped you grow your business to the point that you don't need us anymore.
In theory, once your service grows to a certain point, the finders fees will be too aggressive for you to keep paying and at that point, you know you're ready to strike out on your own. Well done!
I'm definitely interested . . . so now what?
Email us at [email protected]
Express your interest in being part of this pilot program, and tell us about yourself and your painting service.
Send us links to your website or webpage, send us links to your gallery of work and online portfolio. Then we'll contact you, whether we are interested or not, to work out further details.