Rebasing Warhammer Models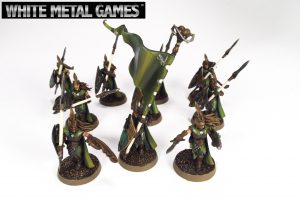 With the advent of Age of Sigmar, Warhammer players are faced with the difficult task of either rebasing their old Warhammer Fantasy Models, or selling off their old models and starting new warbands.
Should I Rebase My Old Models?
Frankly, there is no reason you MUST rebase your old Warhammer models. In accordance with the new Age of Sigmar rules, both round and square bases are allowed in games of Age of Sigmar. That being said, there are a few good reasons to rebase your old models . . .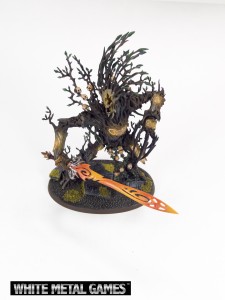 Board Control: In most cases, the new round and ovals bases are up to 25% larger than their square/rectangular equivalents. That means up to 25% more board control, just by rebasing your models! Put another way, you're 25% closer to objectives, and you cover 25% more ground on the board. It's 25% easier to block an area of the board off, or deny someone else from getting through a gap.
Time for a Change: One great reason to rebase your army is that you can change the entire look of your army by changing the basing. Tired of fighting in the sand? Rebase them on snow! Did you always want a daemons army on lava? Now you can have it! This is a quick easy way to completely change the look of your old models without spends thousands on a new army!
Trending: Let's face it, even if the rulebook says you can keep your square bases, do you want to feel like the weird guy that plays Age of Sigmar on square bases? Are you a square, man? Round is the new Square. So get with the times.
What Does Rebasing Entail?
We will carefully remove the model from its old base.
In most cases the previous base will be trimmed away until it fits onto the new round base. This helps to preserve the integrity of the original base, especially when models were 'slotted' into the original bases. In these cases, sculpting putty will be used to blend the edges of the old base into the new.
In some cases, especially large or particularly heavy figures the model will be pinned to the new base for added stability before being glued down. Then the model will be based as normal.
Want to change things up? Why not have us rebase the model in a Winter theme, or a Sandy Desert?
Check out our Basing Guide for all our different basing styles. You can select any standard basing style as part of our Rebasing service. The above examples are our suggested basing styles for most clients.
How Much Does Rebasing Cost?
The price to rebase varies based on the size of the model. Our rebasing guide, below, will help to walk you through the process. Costs are based on base size.
Rebasing Guide
| Old Base | New Base Size | Sample Mold | Cost to Rebase | Touch Ups |
| --- | --- | --- | --- | --- |
| 20mm square | 25mm round | Small Infantry: Skink | $2 | $1 |
| 25mm square | 32mm round | Basic Infantry: Orc, Space Marines | $3 | $1.50 |
| 40mm square | 40mm round | Ogres | $4 | $2 |
| 50mm square | 50mm or 60mm round | Juggernaut of Khorne | $5 | $3 |
| 50x25mm rectangular | 60x35mm oval | Cavalry | $8 | $3 |
| 60x40mm rectangular | 70x25mm oval | Seeker of Slaanesh | $8 | $3 |
| 50mm square | 80mm round | Dragon Ogre | $9 | $4 |
| 75x50mm rectangular | 75x46mm oval | Demigryphs | $11 | $5 |
| 100x50mm square | 100mm round | Chariots | $11 | $6 |
| 100x60mm square | 100x70mm oval | Cannon of Khome | $11 | $7 |
| 150mmx100mm rectangular | 130mm round | Jabberslythe, Slaughterbrute | $15 | $8 |
| 150mmx100mm rectangular | 160mm round | Monstrous Creatures: Bloodthirster, Nagash | $20 | $10 |
Touch Ups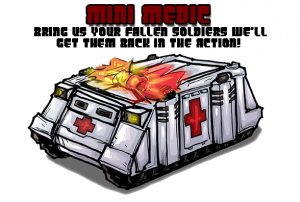 While your army is being rebased, let us perform a few touch ups! Armies get damaged when they are getting dragged around. Got some paint chips? Something you weren't satisfied with in the original army? Touch ups are an extension of our Restoration service.
What does a touch up entail?
Put simply, a touch up involves a basic repair to a damaged model. If we can perform the touch up in about 5 minutes, and all the required bits are included we think of it as a 'touch up'. This is a variation on our regular Restoration service, in that normally damage is not covered in touch ups. We make an exception when it comes to rebasing clients to help encourage you to utilize both services!
Examples of basic repairs include:
A models arm or banner has broken off
A few paint chips, that will be touched up
Other minor or easily repaired damage using the '5 minute' rule
What is NOT covered in a touch up
A touch up isn't designed as a way to restore major damage to models. Examples of what is NOT covered in a touch up includes:
Extensive damage to the model, such as damaged components, missing bits, etc.
Model was dropped, smashed, or stepped on
Model has fallen apart and needs to be repinned
Gaps due to faulty assembly
For these sorts of models, refer to our Restoration service for a full list of pricing options.
But That's Not All!
Want to add a few new figures to the army? Let us know what you have in mind and we'll generate a quote for you! While your army is 'in the shop' it's the perfect time to grab a few new figures.
Depending on how many figures you are rebasing, you may qualify for our Volume Discount or some other discount you can apply to your ENTIRE PROJECT, including new figures!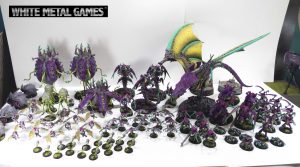 Advanced Basing
Crank It Up to 11 with Advanced Basing Styles
For clients that want to crank it up a notch, we offer several advanced basing styles! Check out our Basing Guide to see all our great basing styles!
The cost to base your models in this way is in addition to the standard rebasing fee. So, for example, if you wanted to rebase a squad of 10 Lizardmen Skinks in a Jungle motiff, the total cost to rebase would be as follows:
$20 rebasing + $30 advanced basing = $50 ($5 per skink)