We offer special incentive based discounts for our loyal clients, including discounts on materials and labor!
Note that these discounts only apply to models you commission, not for items in our eBay store and products from our WMG store (unless it is a commission).
In most cases only the highest percentage of discount is applied to your commission. Check out our Special Discount Terms at the bottom of this page.
Discounts
Material Discount
In most cases we offer our clients discounts on materials commensurate with most online retailers and when you consider drop shipping, will save you even more money. The bigger your project, the more you can save!
| Total Materials Cost | Percentage of Discount Applied |
| --- | --- |
| Under $500 in materials | 15% off most major vendors, such as Games Workshop, Reaper, and Privateer Press! |
| $500 and over in materials | 20% off most major vendors, such as Games Workshop, Reaper, and Privateer Press! |
Labor Discount
Save on painting and assembly on BIG orders.
Alternatively, you can trade in your percentage discount for a Free Fat Mat or a discount on terrain or display boards!
| Price of Labor | Percentage of Labor Discount* | Bonus Item! | Special Incentive Item or Alternative Terrain Discount! |
| --- | --- | --- | --- |
| $1,000+ | 3% | Twelve White Metal Games Dice (D6s) by Chessex | $75 Terrain or Display Board credit |
| $2,000+ | 5% | White Metal Games TAC Template | $150 Terrain or Display Board credit |
| $3,000+ | 8% | White Metal Games T-Shirt | $300 Terrain or Display Board credit |
| $5,000+ | 10% | All of the above | $650 Terrain or Display Board credit OR Special Bonuses discussed on a case-by-cass basis |
Keep 'em Coming!
Return clients enjoy 5% off future orders. Book another commission within 30 days of your most recent commission (we track 30 days from the date of your last payment with us) and you'll receive 8% off labor on your next order with us! Minimum order of $150 to quality.
Check's In The Mail
Pay by check and earn an extra 1% off your entire order, including materials! Unlike other discounts this 1% can take you above our standard 10% maximum, enabling you to save up to 11% on any order!
Pre-Release / Early Release Specials
Companies like Privateer Press, Games Workshop, and the like, are constantly releasing new product in a seemingly unending wave . . . and we want to paint them all!
We offer discounts on commissions that include NEW MODELS released within a week of their release date!
| When the Commission was Booked | Discount on Materials* | Discount on Labor* |
| --- | --- | --- |
| Prior to release date | 25% off materials | 10% off labor |
| Within one week of release date | 20% off materials | 8% off labor |
*Discounts only apply to the new model(s) in a commission.
Senior Citizens / Military
We honor our Elders and Military at White Metal Games.
Just provide validation (such as a scanned state ID, military ID, or equivalent) and you'll automatically quality for a 5% discount, even on your first order with us!
---
Credits
Credits are like cash that can only be applied to commissions. They can be combined with percentage discounts. A maximum $100 credit can be applied to any one commission. Credits will be applied before any percentage discounts are applied to your order.
Unboxing Credit
Unbox your most recent order from White Metal Games on YouTube and share it with us! If you do, you'll earn a $15 credit on your next commission with us! (Minimum order of $150 to qualify)
Referral
Refer a friend and if they book a commission with us, you both get $25 off your next order (minimum order $250) with us. You can earn this special as many times you refer friends, so each new friend you more and more credit! [Only valid on new clients to WMG (i.e., they must have not been a previous client)]
Share your most recent commission on Facebook and mention us in the share, and we'll knock $5 off your next order!
For those who don't know what to say, just copy and paste the sample text below:
Just commissioned these miniatures with White Metal Games! Check out more of their work here!
Credit for Credit Due
If you are a previous commission client of ours, leave us a review on on our Facebook or Yelp and earn a $5 credit on your next commission, consignment, or trade in!
You can claim this credit once every time you commission a new project!
---
Deals (Limited/Trial)
Deals are like limited time, one-of-a-kind offers. While credits can be applied to deals, other types of percentage discounts, such as return client discounts, cannot be applied to deals.
Mystery Box
What's in the box!! Who knows! But it'll be a great value, no matter what it is!
This special is presently only available for 40K and Age of Sigmar Players. You select a game system and budget, WMG picks the faction and develops the entire project!
We pick the entire army, down to the last character! We pick the levels (never lower than Electrum) and the exact make-up of your army!
It might be a gibbering horde, or an elite special forces unit. It could include custom, one of a kind models, or spam the heck out of crucial units!
And of course, WMG picks the color scheme.
Risky? Yes, but the value can't be beat!
Your Budget
The Value You Will Get Back
(Materials + Labor)
Approximate Savings
$1,000
$1,100
10%
$1,500
$1,675
11%
$2,000
$2,250
12%
$3,000
$3,400
13%
$4,000
$4,500
14%
$5,000
$5,750
15%
Strange New Worlds
This is the mystery box special, but for terrain!
Just tell us the system and we'll pick a theme! Our concept might be desolate battlefield, winter castle, lava fields, alien jungles, etc. And like other terrain commissions, large orders quality for free Fat Mats!
Our terrain service will launch in 2018! In the meantime, contact us for details
The Collective
Has your collection grown so large you no longer know where to begin? Chip it away a little bit each month with The Collective. You commit to a spending stipend each month (minimum 3 months) and save a percentage on labor. Payments are deducted from your bank account, PayPal account, or credit card on a day you specify each month automatically.
Materials and shipping are charged for as normal, but labor is reduced each month depending on the amount of your stipend and the term, as indicated below!
Great for gaming clubs that have multiple clients participating!
| Stipend | Three Months | Six Months | Twelve Months |
| --- | --- | --- | --- |
| $1,000/month | 9% off Labor | 10% off Labor | 11% off Labor |
| $2,000/month | 10% off Labor | 11% off Labor | 12% off Labor |
| $3,000/month | 11% off Labor | 12% off Labor | 13% off Labor |
Money not spent each month is 'rolled over' as credit to the next month. Money not spent by the end of your term (3, 6, or 12 months) becomes subject to a normal discounts (5% return client or 8% keep it coming) after your term expires.
Winter is Coming
Commissions booked between December 1st and February 1st benefit from additional credits based on the value of labor.
| Total Value of Labor | Total Credit Applied |
| --- | --- |
| $500–$999 | $50 |
| $1,000–$1,499 | $100 |
| $1,500–$2,999 | $150 |
| $3,000+ | $200 |
Radio Silence
White Metal Games is pleased to offer, on a case by case basis, the Radio Silence special, which includes ONE TIER HIGHER PAINTING for the NEXT LOWER TIER PRICING. Available in Electrum Level Painting for Silver Level Prices, or Gold Level Painting for Electrum level prices.
That's right, a free level upgrade!
However, there are a few rules . . .
Full Artistic Freedom: We pick your color scheme except for . . .
Safety Net: You get to pick any one color we can't use. For example, maybe you hate orange, or neon pink! (You can ask us to avoid other colors for $50 per color)
Radio Silence: We don't update you until the project is finished (normally we update clients on a weekly basis once their project is initiated)
Basically, you trade control for higher quality. This offer isn't for picky clients, but could be great for clients that just want a good looking army/project/model and trust us to handle it.
No test models, no communication, until the project is done! Not a special for the faint of heart, but for those that are willing to hand us the reins, it could be the deal of a lifetime!
---
Other Ways to Save Money
These aren't necessarily discounts as much as they are thoughtful suggestions for ways to save money on commissions that you may not have considered.
Swap Meet
Contact us if you are interested in trading items for services or in store credit for painting or assembly! We offer trade-in credit on certain items and will be offering a Trade In/Buy Out program in the near future!
Re-Purposed Models / eBay Rescues
The second hand market is a great place to get a killer deal on models! You can customarily get models for as much as 50% retail markdown by buying in bulk lots. Our target range for armies is about $400 and we can normally find great deals in this range.
But buyer beware . . . many models will need restoration before repainting; missing bits replaced, broken models repaired, and paint stripped down. Check out our Restoration and Refurbishment page for details.
If you find something you like on eBay or Craigslist or the like, have it dropped shipped to us, and we'll provide you with an estimate for repair once the lot is fully inventoried!
Salvage Ops
During certain periods of the year, we periodically offer a 'Salvage Ops Special', where we offer to strip old paint off your models FOR FREE if you hire us to repaint the figures.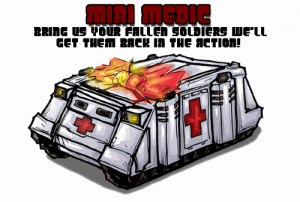 Normally we charge the same rates as assembly for stripping models down, so this is like saving 100% on assembly rates!
Check back often to see when these specials run!
---
Special Discounts Terms
All dollar amounts are listed in United States Dollars (USD). Credits are only valid on orders of $150 or more. A maximum $100 credit can be applied to any one commission. Credits will be applied before any percentage discounts are applied to your order. Offer not valid for PayPal fees or shipping charges.
Only one percentage discount can be applied per order. When more than one percentage discount is applicable, only the highest percentage discount will apply. Minimum order of $150 to quality for any percentage discounts. All labor discounts cap at $1,000 per project.