Basing is yet another opportunity to have your model stand out!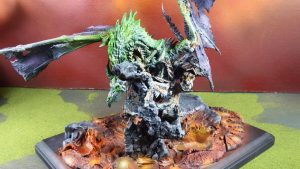 Bases are highly customizable and provide an empty canvas which can say as much about the model as the model itself.
At White Metal Games we offer several options in regards to basework, summarized below.
Standard basing is always FREE at White Metal Games, and you can select from a variety of styles to suit your preference. We also offer a few advanced basing styles.
Basing Techniques
Basing material is applied once painted is finished and high pigment inks are used to 'stain' the basing material before drybrushing. In some cases, textured basing materials is used instead.  Static grass is used to finish the base.
Basing Styles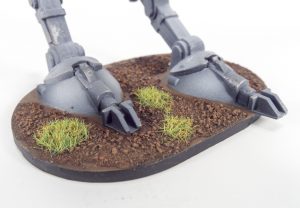 Unless otherwise indicated by the client, your model will be based as follows:
Classic – A sand blend and flocking material or static grass is used to create a simple but effective naturalistic environment.
Alternatively, the client may select any other standard basing option, such as snow, desert, ruins, or seasonal at no extra cost. For specialty basing, such as resin bases or fallen foes, check out our advanced basing styles, below.
Standard Basing Styles

| Style | Suggested Base Edge* | Basing Material | Static Grass / Flock |
| --- | --- | --- | --- |
| Classic | Black | Sand Blend | Static Grass |
| Just Black | Black | None | None |
| Earth | Dark Brown | Sand Blend | Static Grass |
| Dungeon Grey | Black | Sand Blend | None |
| Spring | Russian Green | Sand or Ballast Blend | Spring Foliage and static grass |
| Summer | Red | Sand or Ballast Blend | Summer Foliage and static grass |
| Fall (Autumn) | Dark Red | Sand or Ballast Blend | Autumn Foliage and static grass |
| Winter (Snow) | Dead White or Blue/Grey | Sand or Ballast Blend | Soft Snow Flake or Dead Grass |
| Desert | Brown | Sand Blend | None |
*Base Edge: The color of the base edge can be changed by request to any solid, opaque color at no extra charge.
Basing Materials:
Sand Blend: A mixture of sands with varying levels of grit, such as fine, medium and coarse.
Ballast Blend: Our custom blend of basing materials, which is an ever changing mixture of herbs, spices, dried tea leaves, and whatever else we can find. These materials are dried and after painting are odorless.
Add Bric-a-brac
Bric-a-brac is a catch all for 'something to make the base stand out'. Good examples of this include a small bit affixed to the base; such as a skull, helmet, discarded weapon, or the like. Bric-a-brac can be added at a flat cost per base according to base size and includes the cost to paint these additions. Note that at High level and above, bric-a-brac basing is free.
Ebonwrath is mounted to a scenic base on wooden plinth; a display/playable figure.

| Bric-a-brac Base Size | Cost |
| --- | --- |
| 20–40mm | $3 |
| 50–75mm | $5 |
| 100–150mm | $8 |
| 170mm+ | $10 |
Advanced Basing Styles
For clients that want more complex basing, we offer these advanced basing styles, such as natural wonders (lava, snow/ice, swamps, etc), scenic basing (battlefield wreckage/debris), or resin basing.
Additional charges apply based on scope of basing elements and size. Here are some examples of the many types of basing you can request, as well as their relative surcharges.
Wilderness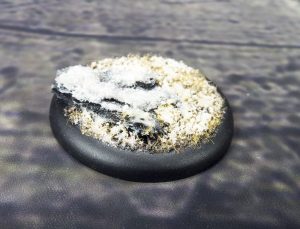 Mix and match any two standard basing styles to create something uniquely suited to your preferences.  These often involve combining natural basing styles, such as Tundra (snowy grassland), Savanna (desert grassland), and the like.
| | | | | |
| --- | --- | --- | --- | --- |
| Base Size | 20–40mm | 50–75mm | 100–150mm | 170mm+ |
| Cost | $1/each | $2/each | $4/each | $8/each |
Natural Wonders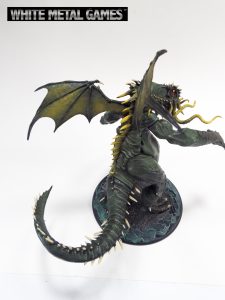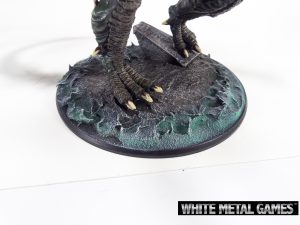 Specialized basing mediums such as water effects, textured gel, and more are used to create vibrant landscapes which are a testament to the untold beauty of Mother Earth.
We use natural materials, such as cork, bark, or slate to give the bases elevation, contour, and depth. Water effects are often used. Sample landscapes include: Swamps/Marshes, Badlands/Painted Desert, Jungles, Arctic Rivers/Aquatic or Lava flows.
| | | | | |
| --- | --- | --- | --- | --- |
| Base Size | 20–40mm | 50–75mm | 100–150mm | 170mm+ |
| Cost | $3/each | $4/each | $8/each | $15/each |
Scenic Bases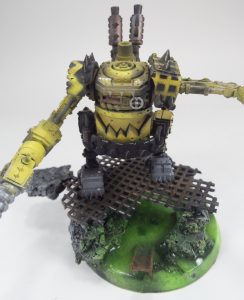 Each base is like a miniature piece of scenery. For an example of this, see 'Dystopian Future' below.
Bases could be made to look like a Laboratory, Space Ship, Toxic Wasteland, Frozen North, Crystal Caverns, Cityscape, Industrial Sprawl, Sacrificial Temple, or just about any other setting you can think of.
| | | | | |
| --- | --- | --- | --- | --- |
| Base Size | 20–40mm | 50–75mm | 100–150mm | 170mm+ |
| Cost | $10/each | $20/each | $40/each | $60/each |
Dystopian Future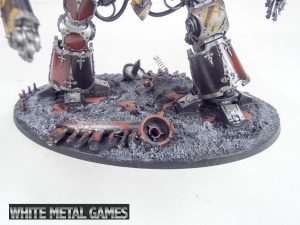 This is an example of a scenic base, above. Think 'Mad Max' or 'Walking Dead' and you're on the right track.
Urban ruins of a dark and distant future. May include battlefield bric-a-brac, discarded technology, ruins from the last days of civilization, or the like.
| | | | | |
| --- | --- | --- | --- | --- |
| Base Size | 20–40mm | 50–75mm | 100–150mm | 170mm+ |
| Cost | $10/each | $20/each | $40/each | $60/each |
Narrative Bases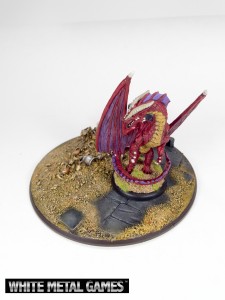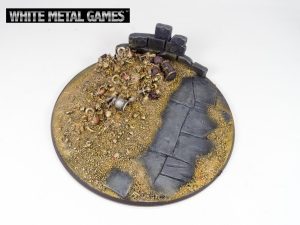 These are like mini dioramas. Great for centerpiece models, heroes, and display figures!
These are highly stylized bases, that combine 'scenic' bases and 'fallen foes', like a hero dealing a telling blow to a worthy adversary. Each base tells a unique story!
Base Size
20–40mm
50–75mm
100–150mm
170mm+
Cost
Price varies. Ask for a quote.
Puzzle Bases
When presented as a unit, the bases fit together to reveal a larger pattern.
Like narrative bases but for a unit.
Examples include horses leaping over a row of hedges, zombies rising from a graveyard, or a tiled mosaic floor.
Base Size
20–40mm
50–75mm
100–150mm
170mm+
Cost
Price varies based on difficulty.
Resin / 3D Bases
Resin and 3D Printed Bases
There are hundreds of manufacturers of resin bases, including us!
These bases are highly scenic and involve sculpted details, such as ruins, roads, lava flows, etc.
Price DOES NOT include the cost of materials.
| | | | | |
| --- | --- | --- | --- | --- |
| Base Size | 20–40mm | 50–75mm | 100–150mm | 170mm+ |
| Cost | $3/each | $5/each | $10/each | $15/each |
Flying Bases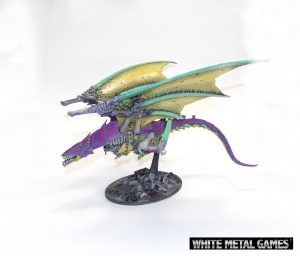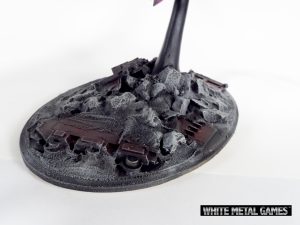 Models are elevated to new heights using wooden doweling, plastic rod, or metal tubing as needed. We often counter-balance particularly top-heavy models with a tendency to tip over. This generally applies to models without a standard flight stand.
White Metal Games stocks a variety of flying bases from popular manufacturers, such as Games Workshop. If you are missing, or are in need of, flying bases or flight stands, let us know when placing an order with us.
Please note that not all flight stands are universal and are only designed to attach to certain types of models. As these parts are exclusively in high demand, additional charges may apply to acquire the necessary connection sockets to properly affix to flight stand to a non-compatible model.
Base Size
20–40mm
50–75mm
100–150mm
170mm+
Cost
$5/each
$10/each
$15/each
$20/each
Titan Bases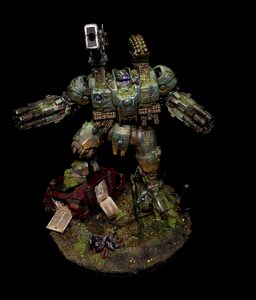 For large models without their own bases, we create custom MDF bases or use Wooden Plaques. Not just for Titans, but for models of similar size and scale.
The price accounts for a few scenic elements, such as part of a crashed vehicle, ruined fortifications, or the like. This varies depending on what is in stock or the conversion budget.
Base Size
Knight Titan
(8″ bases)
Warhound Titans
(12″ bases)
Reaver Titan
(18″ bases)
Warlord Titans
(24″ bases)
Cost
$75+/each
$125+/each
$175+/each
$300+/each
Fallen Foes / Slagged Tanks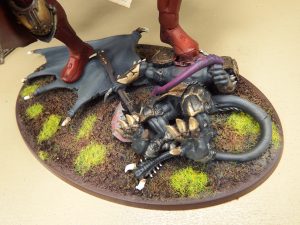 Have a favorite enemy you'd like to depict on your base? Maybe a fellow gamer that you clash with on a regular basis.  Or maybe you want t depict the wreckage of an allied or enemy vehicle that you stand over victoriously?
Adding a Fallen Foe or Slagged vehicle to a base can be a fun and worthwhile endeavor on models that you really want to stand out. Depending on the level of detail required, the cost to add a Fallen Foe/Slagged Tank to your base will vary.   For example, adding a typical dead foot soldier will be less than adding, say, a vanquished daemon prince.
Typically models will run the same rate based on detail level whether they are dead or alive on a base.  Some sculpting work may also be required.  For more detailed models, price will increase.
Vehicles are slightly different in that we usually only use a portion of a vehicle, so if we use up, say, half of a tank it will run a commiserate price, or somewhere in the $100-150 range.  If we used repurposed materials, such as used vehicles, the cost will drop to something closer to say $75-100 for a re purposed model.
If you'd like to explore this option, just let us know and we'll be happy to add a line item to your quote.
Epic Basing
For clients that want something truly Epic, let us turn your base into a mini diorama completed with wrecked vehicles, firefights, or anything else you can imagine!
Pricing starts at $150, but varies on a case by case basis.
Movement Trays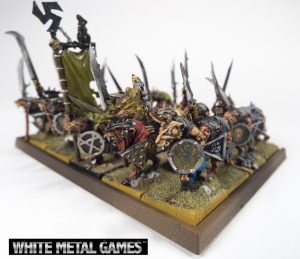 Many fantasy and historical wargames require troops be arranged on unit trays for the purpose of movement and combat
Generally trays are laser cut MDF  and tiled in 20mm or 25mm sections. Trays are painted to match the basing style of the unit.
Trays are ordered from available manufacturers  and are priced like any other material.
In some case, WMG builds trays to order. For these orders, Trays are $30, regardless of size.
Scenic Movement Trays
| | |
| --- | --- |
| | If you'd like your movement trays to be modified to match your basing style, most trays are considered 170mm+ for pricing purposes. So, for example, a standard sized Natural Wonders themed Movement Tray will cost US$38 ($30 + $8). |
Magnetized Bases
If you would like to have your models bases magnetized, then we affix a magnet to the bottom of each base and magnetize thin metal sheeting (or magnetic sheeting) to the movement tray itself.
The cost for this is 50% off of standard magnetization, based on the size of the model and a flat fee of $5/tray. So, for example, a unit of twenty 25mm infantry figures would be $25 to magnetize to a tray ($1/figure plus $5 for the tray).
No Basing Required
We understand that some clients would prefer to base their own models, or don't desire basing, such as for RPG figures. In these cases, bases will be painted a solid, opaque color (typically this is black, but could any opaque color) for the purpose of display photography.