Currently we stream five days per week, as follows:
(Eastern Time)
Mondays at 12 p.m. – Hunter's Kitbash Creature Shop: Join Hunter as he assembles unique creations across multiple games and ranges.
Tuesdays at 2 p.m. – Tuesdays with Tyler: Signature Series painting.
Wednesdays at 12 p.m. – Studio View: Get a behind the scenes look as we broadcast live from the paint room!  Be a fly on the wall as our painters work on client models live!
Wednesdays at 6 p.m. – Preston's Values: Preston's chill presence will help late night viewers unwind from a hard day on our weekly late stream.
Thursdays at 2 p.m. – Dueling Painters: Tyler and Preston face off to see who painted it best in a tandem stream!
Fridays at 2 p.m. – Signature Series: Like a diamond in the rough, watch as Preston slowly transforms busts and 54 mm models into high end competition pieces, intended for showcase.
Fridays at 6 p.m. – Married with Minis: Married couple Bryan and Taylor Rees and their adventures in hobbying.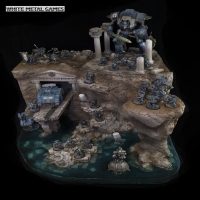 Display and Demo Boards showcase your models the way they were meant to be seen.