Currently we stream five days per week, as follows:
(Eastern Time)
Mondays @ 1 p.m. to 4:30 p.m. – Rental Showcase: See the latest models being added to our library of rentals and help choose the next model.
Mondays @ 6 p.m. to 9 p.m. – Hunter's Kitbash Creature Shop: Join Hunter as he assembles unique creations across multiple games and ranges.
Tuesdays @ 11 a.m. to End of Day (usually 5 p.m.) – Behind the Scenes at WMG: Live all day with the painters. Hang out and watch WMG at work.
Wednesdays @ 1 p.m. to 4 p.m. – Master Classes: QMMalone begins a Signature Series model under PrestonsValues tutelage.
Wednesdays @ 6 p.m. to 9 p.m. – Late Night with #PrestonsValues: Preston's chill presence will help late night viewers unwind from a hard day.
Thursdays @ 1 p.m. to 4 p.m. – Beginners' Classes: Join QMMalone for basic tutorials for budding artists.
Fridays @ 2 p.m. to 5 p.m. – Signature Series: Like a diamond in the rough, watch as Preston slowly transforms busts and 54 mm models into high end competition pieces, intended for showcase.
Fridays @ 6 p.m. to 9 p.m. – Married with Minis: Married couple Bryan and Taylor Rees and their adventures in hobbying.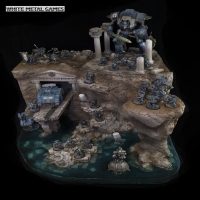 Display and Demo Boards showcase your models the way they were meant to be seen.