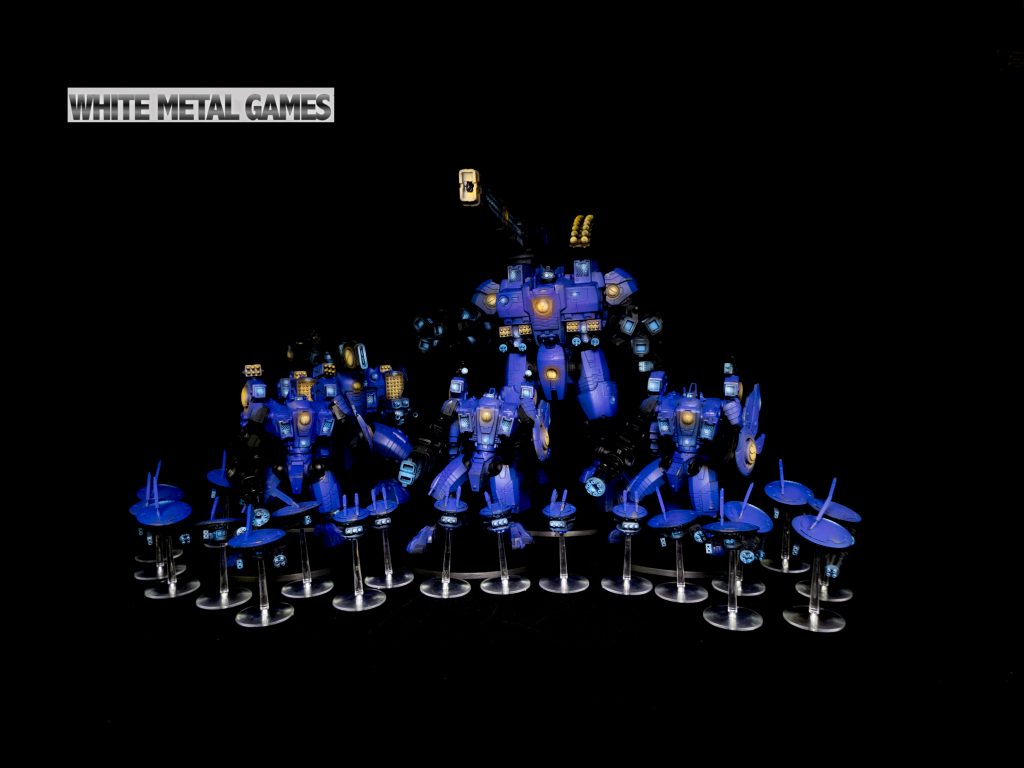 This page provides an overview of the commission process, answers common questions, and offers up helpful tips and suggestions to potential clients.
For specific questions about our painting levels and pricing, see our painting page.
If, after scanning over this page, you still have questions, email us. If you are interested in getting a quote for a commission, please fill out our Quote Request Form.
Alternately, you can call us at (919) 295-5703 during regular business hours and we will be happy to assist you over the phone.
Before Your First Commission
Before Your First Commission – Tips To Potential Clients
Having served thousands of clients over the years, we've learned a few important lessons. We offer these simple tips for potential clients to ensure a smooth commission process.
Provide as much information as possible with your request.
Links to specific items, quality pictures, and detailed descriptions wherever possible, will help to ensure both parties are on the same page.
Have a budget in mind with every project.
Having a designated allotment for every project helps give us an idea of your needs and how best to serve them. We have many levels of painting to help accommodate the budgets of most clients and will tailor a quote to suit your needs.
Be realistic.
For most of our clients, tabletop quality is perfectly fine for your average, day to day gaming purposes. Consider the cost of materials and any special requests you might have. Rather than request a quote for your dream project of 500 miniatures which will run in the thousands, request a more realistic quote for 50 miniatures. This will give you a good idea of how the commission process works and whether our service is right for you.
The Commission Process
Initial Quote Request
Initial Contact and Quote Request Form
Don't Forget Your Gaming Aids!
White Metal Games offers 15% off
most rulebooks, figure cases,
templates, and more!
So be sure to ask us to add it to
your estimate!
Commissions work best when we have a clear picture of what you want. To help you organize your thoughts (and to get a few basic things out of the way) we provide you with this Quote Request form.
To obtain a quote for services, please click this link to our Quote Request Form. Alternately, you can call us at (919) 295-5703 during regular business hours, and we will be happy to fill out the form on your behalf over the phone.
Dream Projects
Big collections are best built over time. While estimates are provided free of charge, there is a substantial time investment in estimating large projects (those over 50 figures or so).
For new clients, we ask that you limit your first estimate request with us to under 50 figures your first time out. If not we charge a flat $100 consultation fee (up front) for projects over 50 figures unless you are a return client (one that has booked with us before). This allows you to get a sense of the service (and pricing) we offer, before either party commits to a project of substantial size.
Even for return clients we ask that you limit projects to no more than 200 figures at a time.
Questions and Answers
How long after requesting a quote will it take to hear back from someone?
White Metal Games works hard to respond to client requests quickly (usually within one business day) and deliver the most thorough quotes we can.
I'm on a budget!!!
For clients on a budget, we always try to work within your budget when and if we can. We offer many special discounts that can be combined with credits in some cases.
If you find our pricing system confusing, simply tell us your budget range and we'll make recommendations that best utilize your budget!
Clients return to us time and time again for the consistent incentive discounts we offer. For ways to not just save but MAKE MONEY check out our Consignment and Trade In/Buy Out (information coming soon) programs. You can even apply the proceeds of your sales to your commission!
Minimum Order Size
Our minimum order size is US$500, including materials, shipping, etc.
Price Lock Guarantee
Our goal is for our final invoice to match our estimate as closely as possible. Estimates generally only change when the client makes changes to their request; such as adding figures, amending items, or requesting additional services. If a mistake is made on our part, we will generally cover the difference ourselves. In the rare case where an oversight is due to a miscommunication, we will discuss the oversight with the client before proceeding.
What is the average turnaround time at WMG?
Most of our projects are in and out the door in about 6-8 weeks. To get an idea of what projects are currently on our painting desk, check out our queue.
We schedule projects on a first come/first served basis, and book projects out a few months ahead of time if at all possible.
Week 1:
Materials Ordered
Week 2–3:
Materials Received
Assembly
Week 3–4:
Painting
Week 5:
Project complete
Photo or video presentation
Client approval or changes requested
Final balance paid (if any)
Week 6:
Models shipped
*This is an average scenario. For smaller projects, turnaround can be as fast as 4 weeks, or less for Rush Orders. Some larger projects take months to complete; such as massive armies.
Deposit and Scheduling
Initial Deposit and Scheduling the Project
If the client agrees to the estimate for service, we require a deposit to add their project to our painting queue. Projects are scheduled in the order they come in, with the exception of RUSH ORDERS.
Deposit
We ask for a 25% deposit on the project OR the cost of materials; whichever is greater. (For example, on a $1,000 project with $300 in materials, we would ask for $300.)
Deposits are generally non-refundable except under extenuating circumstances, especially if materials are ordered for a project.
Installment Payments
We ask that installment payments be timed to coincide with project completion. We offer flexible payment terms and we will work with you to set up a payment schedule that is conducive to the means at your disposal.
How to Pay
We offer many ways to pay at White Metal Games, including credit/debit card, PayPal, bank transfers (ACH and wire), and check (cashier's or personal), as well as cash (in person only).
Normally, we send you a link to our in-house cart system that corresponds to your deposit amount. From there, just add the deposit item to your cart and checkout as normal.
Please be aware North Carolina residents will be charged sales tax at checkout.
If you prefer to not use our cart system, here are other ways to pay:
Pay by mailing a check or money order to our address. Be sure to include a note!
Pay via PayPal to: [email protected]
The easiest way is to use this link: PayPal.Me/whitemetalgames
Pay by phone with a major Credit Card (including American Express) by calling (919) 295-5703 during regular business hours (M-F 9am-6pm ET)
Installment Payments: For larger projects, if you wish to make installment payments you can continue to use the same store link over and over again, or you can specify a different amount and we'll provide you with a new store link. We credit the payments to your balance each time you make a payment.
Electronic payments can be sent via PayPal to:
[email protected]
PayPal is a trusted, reliable third party payment administrator, with safeguards in place to protect clients like yourself.
For new users, it takes a few days to set up your account and verify your bank account information. Once registration is complete, you can make payments via your PayPal account, or simply use PayPal as a routing mechanism for electronic payments using a credit, check or debit card, an electronic check, or payment transfer from your financial institution.
Materials Ordered
Client Lockers
Between commissions, we can store models for future commissions.
This saves you shipping expenses and ensures we are never waiting on materials for your next commission.
Some clients send us months worth of projects all at once!
With the deposit received, materials for your project are now ordered through our reliable system of vendors and distributors. In many cases, this can be the longest portion of waiting to begin a project, as materials from multiple vendors or coming from overseas (such as in the case of many third-party resin manufacturers) will take weeks to arrive.
We continue to update clients each week in regards to their order. In these cases, the update may include the message "waiting for materials" and possibly include tracking information if available.
Getting Started
Once materials are received we can begin work on a project. This generally starts with assembly, may involve custom conversion work, and segues into painting.
Weekly Updates
Weekly Updates with Pictures
Throughout the process of your project, we update our clients weekly regarding the status of their order, usually on Tuesdays. In most cases this involves a few WIP (Work In Progress) pictures from our painting bench and a few notes regarding progress over the past week.
At first, we may be waiting on parts to arrive. During peak periods, the clients order may be in the queue and we may not yet be ready to being work, as we finish other client orders. In this case we'll inform the client what place they currently hold in the queue and give them an estimate of when work will begin on their project.
Our weekly updates also serve as a way to circumvent potential problems should they arise. For example, if a miscommunication has occurred between the studio and client, these updates allow the client to inform us about their concern as the project develops and address their concern immediately.
Bear in mind that WIP pictures are just that, Works In Progress. As we layer paint on models, colors will shift and blend together evenly. Until final pictures are presented to the client no model should be considered finished, despite how it may appear. Oftentimes the final strokes are what make all the difference.
Project Completion
Project Completion and Final Presentation

Watch your models being painted live on Twitch and interact directly with the artists!
Perfect for single character commissions.
Wednesday through Friday @ 10am or 2pm ET!
Once the project is finished, we will take High Definition pictures of all the models in our digital photography studio and present them to the client. We then post these online and send the client a direct link to view them. We will usually remind the client of the Balance Due in the same email, as a means to expedite payment and shipping if they are satisfied with the project.
Depending on the level of the project, pictures will be presented of various sizes. The higher the level of the figure, the bigger the pictures. This ensures that lower level models aren't scrutinized with the same eye as higher level projects (nor should they be!).
Level
Size of Images
Approximate
Magnification
Tabletop Plus
750 px
1.5 x
High
1000 px
2 x
Display
1250 px
2.25 x
Signature Series
1500 px
2.5 x
All images at 300 DPI.
Client Satisfaction
Client Satisfaction and Changes as Needed
Our weekly updates will allow us to address any problems should they come up. However, once final pictures are presented to the client, changes can still be made to the final project as needed in some cases. While not common, these requests are often minor in nature, such as a particular detail needing a bit more attention to satisfy the client. Our goal is your total satisfaction, and as such we are always happy to make changes if needed within reason.
Constructive Criticism Always Welcome
We welcome criticism of our work, so long as the criticism is constructive. Our goal is to pinpoint client concerns so that they can be addressed directly.
Battle Reports
If you'd like your models featured in a Battle Report on
our Twitch
or
YouTube channel
let us know!
This can delay shipping your project by a few weeks, but it can be a fun way to share your models with the community!
We value everyone's opinion, however, a comment such as . . .
"I don't like the way the model looks. It's not like I want it to be."
. . is neither constructive, nor helpful. The comment is vague and doesn't tell us WHAT about the look of the model the client doesn't like. Is it a color choice, an assembly error, or something else?
On the other hand, comments addressing color selection, technique, or other particulars about the project are constructive and help us to pinpoint the exact client concern. In such a case we would attempt to address the client concern. It could be an issue of technical execution on our part, or perhaps the problem is simply that the clients computer monitor isn't calibrated properly. Color may look differently on their monitor than it actually appears in person.
In either case, we would remedy the situation to the clients satisfaction prior to requesting final payment.
Models Shipped
Final Payment and Models Shipped
Once the client is satisfied with the final pictures of their models, we will submit a request for final payment. Once payment is received, we will securely package your models and ship them to you.
Check out our Shipping page for a detailed explanation of how we ship your models securely.
Follow Up
A few weeks after receiving your order, we'll send you a brief follow up email to ensure that everything arrived safe and sound. If the package is delayed for some reason, we'll track the package down and let you know when to expect it.
Bear in mind overseas shipping can take anywhere between two to ten weeks depending on what part of the world you live in!
As good as our pictures are, there is nothing like seeing your models in person. We hear time and time again from clients that pictures don't do the models justice.
If for some reason you are dissatisfied with your order upon seeing the models in person, let us know and we'll attempt the find an amicable solution to the satisfaction of all parties, including partial refunds or credits towards future commissions in some cases.
Rush Orders
In a hurry? Got an upcoming tournament and can't afford to wait? Depending on how fast you need your models, labor (painting and assembly fees) will go up by a commensurate amount.
We may also suggest ordering product directly from the manufacturer, which unfortunately means paying full retail cost, but it does allow us to get started on your project as soon as possible.
| Push Up Timetable By | Labor Cost Increase |
| --- | --- |
| Two Weeks | 25% |
| Four Weeks | 50% |
| Six Weeks | 75% |
| Eight Weeks | 100% |
| Front of the Line | Inquire if queue longer than eight weeks |
Any applicable discounts will be applied to reduce the increased labor. For example, clients getting a 5% discount on a a 25% rush order will pay just 20% more.
Returning Clients
Incentives for Returning Clients
We offer a 5% labor discount to returning clients, so let us know when you're ready to set up your next commission. Clients which book a new project and deposit within 30 days of finalizing payment on their last project will earn 8% off in labor, which we call our Keep It Coming discount
Consistency
Clients return to us time and time again because White Metal Games provides a consistent product with expedient turnaround. We keep detailed painting records, so whether it's been two months or two years since your last commission, we are well suited to match previous work.