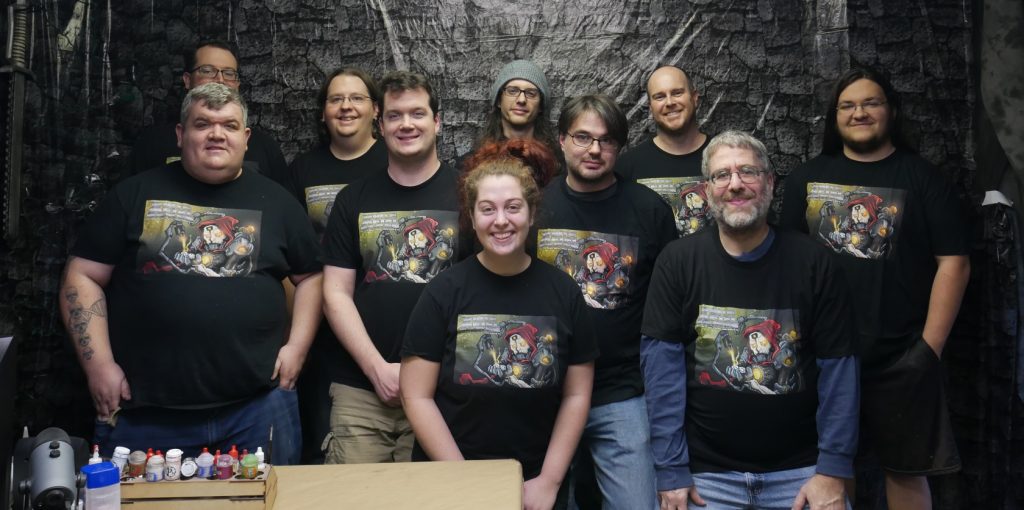 Top Reasons to Go with a Well Established Commission Service (And Not a Cheaper Hobbyist)
These days potential clients are have many choices when it comes to selecting a painter for their next project. There are literally thousands of individuals out there advertising themselves as a commission miniature painters.
Even assuming they are a good (or even great) painter , there is a BIG difference between a painter for hire and a studio.  It's a bit like comparing a professional lawn care service to the kid that mows your grass down the street. Our business models are simply not the same.
Here are a just a few of the many reasons you should consider going with a professional studio:
Reliable & Vetted: With over 50 positive reviews on our social media accounts, we have a track record with satisfied clients! You can find positive reviews about our service on platforms like YouTube, Facebook, Yelp, reddit, and many others!
Consistent Communication: As a regular business with regular business hours, you can call us daily from 9 a.m. to 5 p.m. ET. You can also reach us by email, skype, or Facebook messenger! We get back to clients within one business day and we update clients weekly with project updates.
Expedient Turnaround:  With several dedicated, full time painters in house, we can turn around projects that would take a single person studio months in a fraction of the time.  In some cases our turnaround is less than a month!
One Stop Shop: Our studio offers a variety of services, not just painting. Among the services we offer are assembly and kitbashing/conversion, terrain and display boards, consignment, and more! We can also furnish our clients with gaming aids like rulebooks and dice! So you don't have to shop around!
Live Painting:  For clients that like to see their models painted in real time, we offer a live painting option via our Twitch channel!  Streams are weekly in the afternoons, ET.
Practical (shipping) Experience: We ship thousands of models every year. There is nothing worse than receiving a broken model out of the box. While lots of painters have experience painting, when it comes to shipping they may be less experienced. Don't let a bad shipment ruin a good experience.
Receptive to Client Feedback: We work closely with our clients throughout the entire commission process from planning to execution. We listen actively, and try to honor our client's every request when possible. If a client receives their models and has constructive feedback, we try to work with them to resolve the problem amicably, up to and including returning their models for touch ups as needed.
Discounts & Incentives: We offer a variety of incentives to returning clients, including discounts on models, labor, and much more! We offer credit for referrals and reviews, and even offer consignment services for when you are ready for a new collection. Check out our Patreon channel for even more great discounts, including ways to earn free models through our Twitch Ore system.
Supporting Small Business: By supporting the work we do you are supporting small business, allowing us to endure despite an often unstable economy. This means we can provide models to grow your personal collections for many years to come.