Get notably increased rewards on our Twitch channel. We encourage all our clients to use both platforms to maximize benefits.
Don't worry! You can still enjoy Twitch for free (and even win models), but the amount of ore you accrue increases rapidly with support on Patreon (as well as many other perks) . See our Patreon page for all the details!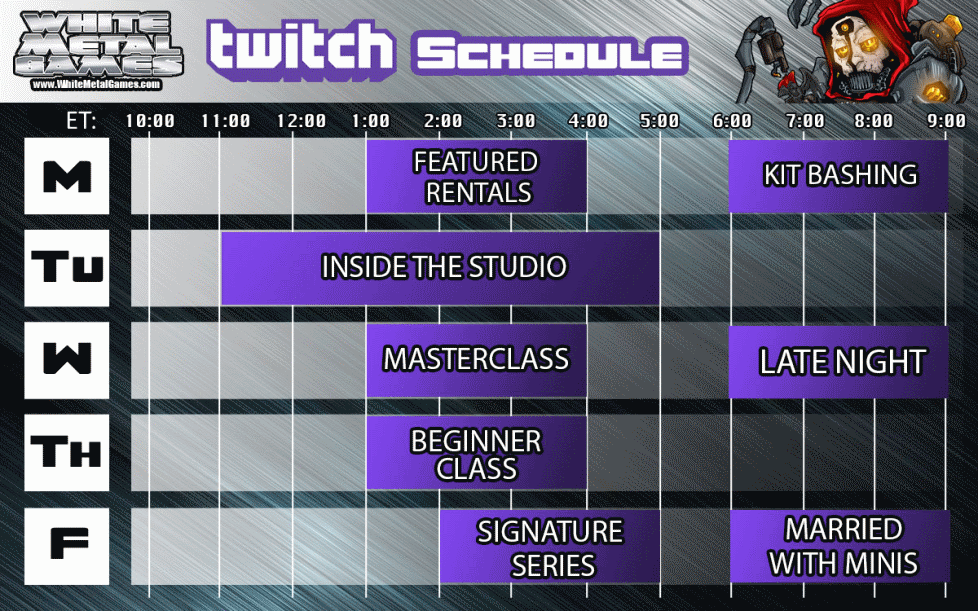 Currently we stream five days per week, as follows:
(Eastern Time)
Mondays @ 1 p.m. to 4:30 p.m. – Rental Showcase: See the latest models being added to our library of rentals and help choose the next model.
Mondays @ 6 p.m. to 9 p.m. – Hunter's Kitbash Creature Shop: Join Hunter as he assembles unique creations across multiple games and ranges.
Tuesdays @ 11 a.m. to End of Day (usually 5 p.m.) – Behind the Scenes at WMG: Live all day with the painters. Hang out and watch WMG at work.
Wednesdays @ 1 p.m. to 4 p.m. – Master Classes: QMMalone begins a Signature Series model under PrestonsValues tutelage.
Wednesdays @ 6 p.m. to 9 p.m. – Late Night with #PrestonsValues: Preston's chill presence will help late night viewers unwind from a hard day.
Thursdays @ 1 p.m. to 4 p.m. – Beginners' Classes: Join QMMalone for basic tutorials for budding artists.
Win Free Models on Twitch
Through our Twitch channel, we are producing new models each week during live painting sessions. By tuning in, not only will you get to see exactly how we paint these models, but those very same models could be YOURS! Just by watching our lives streams, you mine White Metal Ore!
White Metal Ore is a show currency and the longer you watch, the more ore you mine! Each of our Patreon subscOREriptions also comes with bonus Ore every month, and an annual bonus too!
There's Ore in them' there hills!
Ore is mined at a rate of 1 Ore per 10 Minutes spent in our Twitch channel (during active streams only; not hosted streams or offline). That's 6 ore per hour. Most of our streams are three hours long, so you can earn about 18 ore per stream! That means after just 6 streams, you can already cash in your ore for prizes!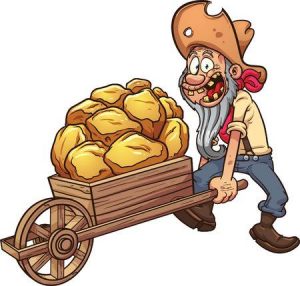 Tier 1 Prizes are 100 Ore
Tier 2 Prizes are 1000 Ore
Tier 3 Prizes are 2000 Ore
Tier 4 Prizes are 3000 Ore*
Tier 5 Prizes are 5000 Ore*
Tier 6 Prizes are 7000 Ore*
Tier 7 Prizes are 10000 Ore**
Tier 8 Prizes are 20000 Ore**
*In addition to Ore, Tier 4 or higher prizes may only be selected if you are either a Subscriber on Twitch or Patreon.
**In addition to Ore, Tier 7 or higher prizes may only be selected if you are a Subscriber on Twitch and Patreon.
Giveaways!