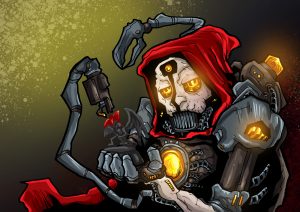 White Metal Games is expanding and Painters Are Needed!

If you are a miniature painter living in or near the Raleigh/Knightdale area and would like to be considered as a studio artist for White Metal Games, email us at [email protected].
What Should Be in my Email?
Send me pictures of your most recent work, or a link to an online portfolio.  Remember you want to put your best foot forward, so send the best pictures you can.  We get a lot of apologies for bad pictures.  Take your time.  You only get one chance to make a first impression. 
We also would like to know a little about you:
How did you get into the hobby and how long have you been painting?
Have you ever painted for someone else?  How did you like or not like that?
What makes you a good candidate for commission work?
How fast/slow do you paint?  How many figures do you finish in a week, to what standard, and in how much time did it take you?
Do you have any conversion work/kit bashing experience?  Do you have any sculpting experience?
Do you have a background in the arts, graphic or liberal?
What is your availability like?   For example, how many hours per week do you set aside for painting, and how many of those would you feel comfortable being paid to paint?
What does WMG look for in a Painter?  
The ideal candidate would be someone local, with not less 20 hours per week to spare.   The more you can work, the more you can make!   For the right candidate that is willing to relocate to Raleigh, the earning potential is over $2000 a month in some cases!  
Preferably a candidate would have extensive painting experience and preferably some experience painting for others. Painters must paint to a very high standard to be considered for our service.  
What If I've Never Painted Miniatures before?
Spend a few years learning to paint, and then contact us again.  We are always looking for great painters.  
Who are you to judge my work!  You don't know me!
Great question.  Since 2011, I've built WMG into a business that allowed me to leave my full time job to be a full time painter/hobbyist, and now I  employ multiple artists that  also work full time on commission work.  Each year, WMG grosses over $300K in sales.  We take on and complete hundreds of projects each year for clients all over the work.  
In fact, work is rolling in faster than we can paint and that's why we're looking for new brushes for hire to call White Metal Games their studio!  
Furthermore , we have done extensive research into our competitors, so we know what we're up against.
That being said, if you don't like having your work constructively criticized, this is not the job for you.  We will evaluate your work regularly.  We will be candid about the quality level and your turnaround speed, and if your work does not meet our expectations, we will part ways as friends.
What it means to be a 'Pro-Painter'
Pro-Painter is a term that gets a lot of flak in the industry.  We call ourselves pro-painters because we paint for a living. In fact, I've written extensively on the topic.
Not every model we paint is painted to a high standard, just like not every client we service has a high budget.   At White Metal Games we offer several painting 'levels' to suit every clients needs.
Our levels are arranged by precious metals, with Bronze being the lowest and Gold being our 'pro-painted' standard. 
Painting Up/Painting Down
One of the things that divides painting for a competition and painting for clients is 'Painting Up/Painting Down'
Let's say, using the levels above, you prefer to paint to Gold standard at all times.  Can you force yourself to paint lower for work?  Can you paint faster than you normally do?  Can you use thicker brushes to cover more area more quickly albeit at the expense of precision?  Put simply, can you paint Tabletop as well as Painting Gold or above?
Some people can't and that's okay.  It's just means either we can only offer you high end work, or we can't offer you work at all.  The more flexible you are as a painter, the more work we can get you.
What will I be painting?  What is the average project size at WMG?
Lots of things!  We paint everything from board games to skirmish games, RPG figures, and more!
The average project is either a large, low level project (such as 100-200 figures at Silver or Electrum Level) or a smaller number of high level figures.  In increasing cases, we are getting more high level large projects, such as Electrum armies with characters painted to Gold Standard and above!
What this should mean to you is that painters with more range and more availability will get top project priority.
 What is your turnover like at WMG?  How Long Do Most Painters Last?
Some painters try out commission work and don't like it.  They don't like the time constraints or they don't have the time they thought they actually did, they don't like answering to others (clients), and they find they don't have the stamina to paint for a living.  And that's okay.  We don't hold it against them.  This isn't for everybody.
But we are picky about who we hire, and want to only hire those individuals that we believe are cut out for this.  Of those, most DO like the work and stay for years. 
Our Business Model/Brand
Our business model is geared around providing high quality miniatures at a premium price and fast turnaround.  
We are often know for our outstanding customer service, original models, and all around service.
HOW WE PAINT:  THE WHITE METAL GAMES PAINTING METHOD
Our painting philosophy is simple: Style trumps detail. Being a pro-painter is about selling amazing looking models, no matter how you achieve the end result.
Our goal is to create Efficient – Consistent – Dynamic miniatures.
Efficient: Great models shouldn't take forever to reach the client. We use refined techniques and assembly line methods to maximize workflow.
Consistent: Great models should be something our clients can count on every time they buy from us, especially if they add to a project over time. Our goal is to match or exceed our work every time.
Dynamic: Great models should stand out on the tabletop, no matter what painting level you selected. Our models should be visually interesting and convey depth.
Our approach to painting involves three keystones: Balance, Focus, and Depth
Balance: Balance is about choices; those we make and when we choose to hold back. The pallet we select helps to emphasize theme, mood, and the overall impression of the piece. When creating a custom model, balance plays a key role, as we decide on the direction the model should take, which parts to use, even stance.
Focus: Focus is used to draw the viewers attention to certain areas of the model, particular details; namely, the areas you WANT them to notice. We like to think of this as Suggested Perspective.
Perception is subjective to the viewer. So by encouraging them to look at a certain portion of the model, other portions with less noticeable detail will become white noise and fade away. This is a form of misdirection; by creating WOW elements, such as OSL, we draw the attention of the viewer.
Depth: Depth not only pertains to depth of color, but depth of light. Layers are built up with deliberate purpose, so that the final layer is the careful culmination of every layer that has come before it.
How long do I have to work on a commission?
It depends on the size and level of detail of the commission.  Here are some typical turnarounds with WMG for tabletop quality figures (higher level figures obviously increase the time budget accordingly)
| | |
| --- | --- |
| Size of Project/Number of Figures | Average Turnaround Speed |
| A few RPG figures/A squad of Wargame models | A day or so |
| 10-20 figures | A few days, depending on level |
| Small army, 40-50 figures | 1-2 weeks |
| Large army, 60-80 figures, plus some vehicles | 2-3 weeks |
| Massive Project, 100 figures | 3+ weeks |
What can I expect to make as a Painter?
The biggest challenge in commission painting is finding work and clients.  We take care of that for you, which allows our painters to JUST PAINT.   In effect, you are able to focus on the work and not worry about the day to day hustle of finding your next gig or the administrative tasks associated with running a small business. 
For resident painters, those that work on site, our typical painter starts at about $9-10 per hour.
For experienced painters with a great deal of experience and an extensive portfolio, we offer more, up to $11-12 per hour to start.
For extremely experienced painters with a master of high end technique, we have offered as much as $13-14 per hour to start.
Every six months, our painters are evaluated and those that continued to perform in a satisfactory capacity see a small raise twice a year.  
Your rate of pay is commiserate with your experience, such as:  
How Fast You Paint – The faster you are, the more valuable you are!
How Well You Paint – Being able to paint to a higher quality means you can take on more types of jobs.
How Much Time you have to Paint – The more time you can spend painting each week, the more you can potentially earn.  For example, full time employees typically get more practice and thus make more than part time employees.  
The Clients Coming In – Our client base has continued to expand over the years, and what we've seen is our clients demand higher product at a higher premium.  So in short, painters that can paint to a higher level will see more income than those that paint to a tabletop level.
Time of Year:  Certain periods, such as the Holidays, are slow on commission work.  Late Winter (just after Christmas) and early spring are our busiest times of year.  Partially this is from people spending Christmas money (getting what they really want), spending tax returns, or gearing up for the Tournament Season.
If you don't hire me, are there other opportunities available?
Sure!  Firstly, you can sell your personal projects through
our Ebay Store.
 There are many perks to consigning your models through our service in this way, including high quality photos, a pre-existing client base from a store with 100% positive feedback, and no shipping hassles to name just a few.   We take 25% off the top of these sales.
Furthermore, there are clients that turn down our first estimates, due to our quotes being too high for them.  In these cases, if you are willing to work at a lower rate, then we either share their project info with you, you can provide me with a quote for service and I can pass that information on the client OR we ask the client to name their max budget.
If you are willing to take on the project for this amount (instead at a 25% cut) then we are willing to share your quote with the client.   Effectively we offer your services at a discount.  This can be a great way to break into commission work, but BE WARNED!  Clients on a tight budget seem to be pickier for some reason.
I don't paint/am new to painting, but I still am looking for work.  Do you need any other help?
There are a variety of roles we are looking to fill at WMG, including the following-
Assemblers:  We sometimes hire assemblers to help us move projects along more quickly.  If that's something you'd like to consider, let us know.  These persons build our models as needed.  Ideally you must have some experience with conversion/kitbashing, or sculpting work to apply, as these are often part of the job.
Bits Clippers/Sorters/Mailers:  We are considering adding a BITS service in the near future, where models would be clipped and sorted and sold for bits. This would be an extensive time requirement and  great attention to detail.  If this is something you'd like to consider, let us know.
Will I get Insurance/Health Care/401K?
White Metal Games does have some supplement insurance options available for all staff, including dental, vision, and health.  If you make it to the interview stage we can discuss this in more detail.
Are there any Perks?
Of course!  Since many of our painters are avid gamers themselves, we grant our painters direct access to our distribution channels, which means you can get you hobby product at a substantial discount, in many cases 25-30% off RETAIL!  I'd call that a perk!
All this sounds great!  How do we begin?
Normally the way this works is, after initial contact by email, if we are interested in seeing your models up close, we will ask to meet you in person.  
Bring some of your figures, showing a good range of textures, colors, mediums, and sizes.  Presuming we are interested we move on to a trial period.  You'll work on some projects with us for say a week and we'll get a sense of your workflow and ability range.  If this trial period goes well, we'll offer to hire you, then we'll find you your first commission.
How do I reach you?
If we express interest, and you are on board with all of the above, then the next time you're in Raleigh, let's make plans to meet in person and chat, talk about things, explain to you how the business works, etc.
You can email us at the links, below.  We prefer email and the email address is: [email protected]
If we think you might be the right fit for WMG, we can conduct an interview via Skype to chat in person. 
In the mean time, think about our rates and your availability and let me know if you are willing to consider commision work with us.
Thanks for your interest and we look forward to hearing from you!  
Caleb Dillon
White Metal Games
If you enjoyed this article, be sure to like it, share it with others, and subscribe! 
Listen to our podcast on Hobby and Painting:  War Council