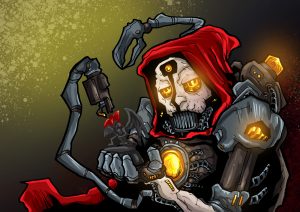 White Metal Games employs a staff of well trained, award winning painters.
Check out each of their bios, below, to learn more about them.
Caleb Dillon
"Boss Monster" Caleb Dillon
Owner – Founder – Artist
Caleb Dillon is the owner and founder of White Metal Games. He has been an avid wargamer for over 20 years and brings all that experience to the table.
Caleb considers himself an artist whose chosen medium is miniatures. Caleb is constantly exploring new techniques and revisiting old ones, trying to find a simpler way to achieve top tier results.
Caleb's plan is to continue to expand WMG until it becomes an industry leader in the miniature marketplace, including manufacturing and game design. He welcomes talented artists in the Raleigh area to join him in his pursuit.
Email Caleb at caleb@whitemetalgames.com
Johnathan Sturrock
Johnathan Sturrock – Master of the Forge!
Painter in Residence
John is a mini-figure painter. My work started in April of 2015 when I was at school working on my Warhammer Ork army and someone asked me to paint a miniature for them. I had no idea that it would lead me to starting the "White Lightning Paint Commission Business".
My commissions go from themed 40k squads, to ammibos, and much more. I work hard to make this small business shine, with every commission I do it shines even brighter.
Email Johnathan at johnathan@whitemetalgames.com
Preston Bernard
Preston "Values" Bernard
Painter in Residence
Preston is an avid wargamer and hobbyist, and has been enthralled by the lavishly detailed miniatures and lore of Warhammer and Warhammer 40k for nearly 15 years.
Over this time he has amassed a large collection of miniatures from a number of lines painted in a variety of styles, constantly trying to push his work further with each new project.
Winner of multiple painting awards, he has been featured on Games Workshop's Facebook page and the Forge World website.
Preston enjoys developing new techniques and working together with the exceptionally talented team of artists at WMG to create miniatures that stand out both on the table and on the display shelf.
Email Preston at preston@whitemetalgames.com
Andy Lingoes
Andy "The Painter" Lingoes
Painter in Residence
Andy "The Painter" is one of our more seasoned painters, he is a machine built only for painting miniatures!
Andy has a self admitted plastic crack addiction that only we in the industry understand. He loves painting, kitbashing, and almost every detail of modeling miniatures (except for cleaning sprews!). His passion for the hobby is only exceeded by his passion for his family!
Andy's favorite hobby is killing Tau by the thousands!
Michelle Lagoueyte
Michelle "Miss Squeaky" Lagoueyte
Administrative Assistant
Michelle is new to the miniature tabletop gaming community, which she originally discovered through Dungeons and Dragons. Her interest has grown through her position at White Metal Games to include Games Workshop games and Miniature Board Games such as Zombicide.
Michelle works as the administrator for many various tasks within WMG – consignment, photography, sales, etc. — and has become a vital part of the WMG community.
In her spare time, she enjoys streaming on Twitch as MissSqueakyTV. Michelle enjoys gaming of all types.
Justin Perry
Justin Perry a/k/a "Pickle"
Administrator and Content Producer
Justin enjoys gaming, computers, and playing Tau!
As a Tau player, everyday life is tougher on Justin because he has to make sure every small detail of his life is "For the Greater Good".
Ryan Maloney
Ryan "Rules Lawyer" Maloney
Painter in Residence
Ryan "The Rules Lawyer" Maloney is our local rules expert and OCD neat freak.
Ryan has memorized every book in every edition! He's a robot built for bringing down the hammer when you "think" you know the rules.
Ryan's skills for painting and his hunger for rule correction is only bound by his immense love for his family.
Ryan joins Andy in the killing of thousands of innocent Tau!
Casey Landis
"Crazy" Casey Landis
Assembler/Painter
Casey was stuck in the warp when we first hired him and has never left it. Except for when he plays Tau, although he said his new goal is for there to be Chaos Tau!
Let us know how that works out, Casey.
Mitch Evans
Mitch Evans #MagicMitch
Head of Assembly
"Magic" Mitch Evans is a kitbash and conversion extraordinaire who's skill knows no bounds!
Mitch enjoys creating or molding new miniatures and pieces for your playing pleasure. You can always catch Mitch's newest work on our Twitch channel or Instagram!
Mitch enjoys killing Tau and avoiding the warp.
Hunter Paustian
Assembler
Hunter is a veritable Swiss army knife of hobby interests! When he's not custom kit bashing a model for his growing Tau or Ork collections, he's busy growing his Salamander and Night Lord armies!
Hunter is a truest and devoted to hobby lore, but don't let that fool you, he loves to experiment with new army lists and is constantly challenging his opponents by turning the tables on them.
Ethan Harrop
Painter
Ethan is the newest painter to join our studio. Ethan is a loyalist to be sure and is constantly adding to his Black Templars and Tomb Kings armies.
Ethan still actively enjoys classic Warhammer and enjoys games of 9th Age!
Gabriel Dalton
Painter
Don't let his age fool you, Gabe is the fastest painter this side of the Eye of Terror.
When Gabe isn't busy painting minis, he's adding to his massive collections of xenos, including Orks, Nids, and Dark Eldar, among others. He's also a loyalist to 9th Age Warhammer, and his Undead collection is something to be seen!
Nathaniel White
Studio Assistant
Born and raised in North Carolina, Nate is a long time wargame hobbyist with over a decade of experience in assembling, painting, and playing games with fantasy, historical, and sci-fi themed miniatures.
He isn't just an active hobbyist, he's also working on his own unique fantasy skirmish game! While the game is presently in beta testing, you can expect to hear more about this exciting new project "Varah Chronicles" as it develops!
Dennis Franks
Special Projects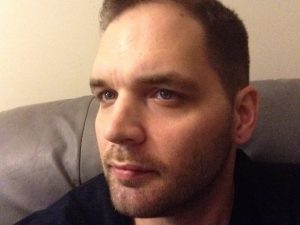 My name is Denny. I am an avid gamer of multiple gaming systems. I started this hobby two years ago with Warhammer Fantasy. My love of miniature painting has grown over the last several years along with my skill.
Even though I have not painted long, in the short span I have won multiple painting competitions in categories ranging from small single miniatures to entire painted Wargaming armies. My strengths include airbrushing, osl, freehand, and my attention to detail. I look forward to paint all ranges of miniatures for gaming as well as centerpiece displays.
As stated above I enjoy a challenge, please feel free to have any model you wish as a centerpiece for your collection brought to White Metal Games. We look forward to putting the care and attention detail for any model in your collection.
Email Dennis at dennis@whitemetalgames.com
Bruce Halpern
Webmaster
Bruce created and maintains the website. He also handles other internet and tech needs for WMG.
Email Bruce at webmaster@whitemetalgames.com