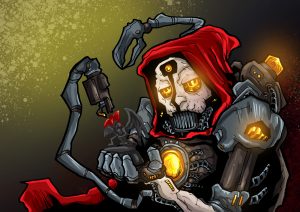 White Metal Games employs a staff of classically trained, award winning painters and Golden Demon finalists.
Check out each of their bios, below, to learn more about them.
Caleb Dillon
Owner – Founder – Artist


Caleb Dillon is the owner and founder of White Metal Games. He has been an avid wargamer for over 20 years and brings all that experience to the table.
Caleb considers himself an artist whose chosen medium is miniatures. Caleb is constantly exploring new techniques and revisiting old ones, trying to find a simpler way to achieve top tier results.
Caleb's plan is to continue to expand WMG until it becomes an industry leader in the miniature marketplace, including manufacturing and game design. He welcomes talented artists in the Raleigh area to join him in his pursuit.
To view Caleb's gallery, click here.
Email Caleb at caleb@whitemetalgames.com

---
---
---
Dennis Franks
Special Projects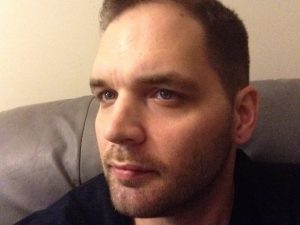 My name is Denny. I am an avid gamer of multiple gaming systems. I started this hobby 2 years ago with Warhammer Fantasy. My love of miniature painting has grown over the last several years along with my skill.
Even though I have not painted long, in the short span I have won multiple painting competitions in categories ranging from small single miniatures to entire painted Wargaming armies. My strengths include airbrushing, osl, freehand, and my attention to detail. I look forward to paint all ranges of miniatures for gaming as well as centerpiece displays.
As stated above I enjoy a challenge, please feel free to have any model you wish as a centerpiece for your collection brought to White Metal Games. We look forward to putting the care and attention detail for any model in your collection.
To view Dennis' gallery here, click here.
Email Dennis at dennis@whitemetalgames.com
---
John Elbro
Special Projects
My name is John and I'm a newcomer to the USA, from England. I have primarily been a gamer for a fair few years. I am a reenactor of many years.
I enjoy painting as a de-stress from my chosen profession and try very hard to paint very well. I was a finalist in the Games Workshop Golden Demon painting competition (a long time ago) and I have won several competitions in my short time in the USA (HMGS Cold Wars, and most recently at Historicon).
I am always looking to improve my work and produce lovely painted figures. I have a large collection of Flames of War models, some Weird War Two figures, and starting an ancients Roman army. I also love quirky figurines.
To view John's gallery here, click here.
Email John at john@whitemetalgames.com
---
Johnathan Sturrock
Painter in Residence


I am a Mini-figure Painter. My work started in April of 2015 when I was at school working on my Warhammer Ork army and someone asked me to paint a miniature for them. I had no idea that it would have led me to starting the "White Lightning Paint Commission Business".
My commissions go from themed 40k squads, to ammibos and much more. I work hard to make this small business shine, with every commission I do it shines even brighter.
To view Johnathan's gallery here, click here.
Email Johnathan at johnathan@whitemetalgames.com
---
Preston Bernard
Painter in Residence

Preston is an avid wargamer and hobbyist, and has been enthralled by the lavishly detailed miniatures and lore of Warhammer and Warhammer 40k for nearly 15 years. Over this time he has amassed a large collection of miniatures from a number of lines painted in a variety of styles, constantly trying to push his work further with each new project.
Preston enjoys trying out new techniques to achieve a high level of detail to create miniatures that standout both on the tabletop and your display shelf. Preston also loves to convert his miniatures in creative ways, individualizing each miniature as if they were a complete character with a backstory. Preston's creativity combined with the amazing skills of the WMG team will insure that your miniatures are the envy of all that stand before them on the battlefield.
Email Preston at preston@whitemetalgames.com